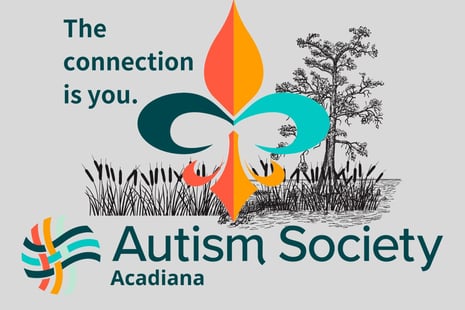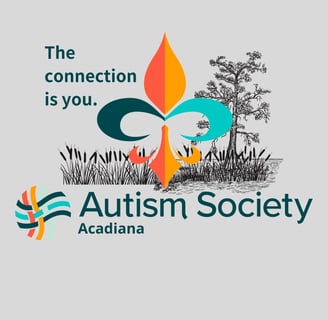 AUTISM SOCIETY ACADIANA
We are Acadiana's support organization for everyone in our area affected by autism. If you are a person with autism, a parent, grandparent, teacher, neighbor, friend, service provider, doctor, psychologist, speech-language pathologist, or have any connection to the autism community, we are the organization for you. Autism Society Acadiana was founded in 1985 by a group of parents and professionals who wanted to share information, resources, and provide support to each other and to families affected by autism. We provide opportunities for our members to meet other families and individuals on the autism spectrum and also allow members to share experiences and information with others. We also distribute information and give resources on where to find programs and services that benefit the entire family.
Autism Society Acadiana is a regional affiliate in good standing with Autism Society of America, and we are a 501(c)(3) non-profit organization.
Autism Society Acadiana holds support meetings in Acadiana where you can feel at ease while you learn and share information about autism. We have social events throughout the year where your family can relax and have fun with other families, including persons with autism. Social events have included: swimming/pool parties; picnics in the park; family bowling fun night; and other activities that you and your family can enjoy.
We have 2 major fundraisers annually:
Our spring event, WALK FOR HOPE, has become one of Acadiana's largest one mile fun walks. The day also includes food, music, dancing, carnival games and activities for the whole family.

Our fall event is TRIVIA NIGHT, which brings awareness of autism to our community at-large. Trivia Night is a fun competitive event where each team tries to score the most points by guessing the correct answers to questions in various categories. Players are encouraged to dress up in costume and decorate their table in a fun and festive theme. Prizes will be awarded to the best dressed team and best decorated table. There will be a silent auction for participants to bid throughout the night and winners determined before the last trivia game ends. Dinner is included which is provided by area restaurants.
Autism Society Acadiana is governed by a Board of Directors which welcomes input on how best to serve you and the autism community – individuals, families, professionals, educators, friends and neighbors. The Board of Directors meet every other month and welcomes attendance by members of the organization and our community.
Please feel free to browse our website and attend our community support meetings. We would love to see you! To get in touch with us, just send us an email or call our office at 337-235-4425.
There is H-O-P-E and
you are NOT alone in this journey!